Hey and welcome to my ClickDesigns Review. This is Darius from reedratings.com where I give honest digital product reviews along with awesome bonuses for products I truly believe in.
Now, ClickDesigns is brought to you by Mo Latif a well known internet marketer and also the creator of other high quality software products like Video Engine Pro.
So the big question is, is ClickDesigns really worth your money? I'll tell you if it ticks all the boxes, and if it does, I'll give you some awesome complimentary bonuses you can only get from me today.
In a nutshell, ClickDesigns is an all in one graphic and design cloud based platform that will allow you to create any kind of design you need for your blog, funnels, sales pages, websites, etc.
If this sounds like something you're interested in, stick with me as I will show you more during this article including the pricing and upsells and also my demo video. I also put together some cool bonuses for you if you decide to buy ClickDesigns through my link, free as part of your purchase.
Now let's jump into the next section of my ClickDesigns Review to find out what exactly ClickDesigns is and how it can help you and your business.
What Exactly Is ClickDesigns?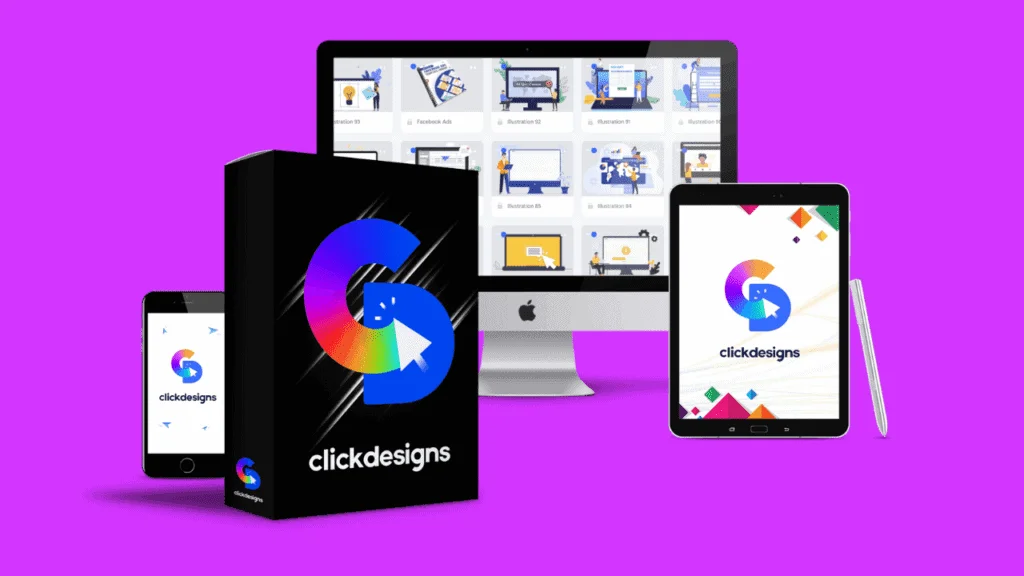 ClickDesigns is a cloud based software that allows you to create amazing graphics for blogs, websites, sales funnels and site builders.
It works with ClickFunnels, Groove, Convertri, Instapages, Kartra, Leadpages, Kajabi, OptimizePress, Elementor, Themify and many more.
You can create logos, boxshots, mockups, covers, reports, bundles, illustrations, graphics and much more.
You can use these graphics for your webpages, videos, socials, emails, banners, practically anything that's visual without freelancers, designers, coders and webmasters.
Now, we have a lot of graphic design softwares like Canva, Adobe Photoshop, PaintShop Pro, VistaCreate and many others. But they all very expensive and requires design skills.
In comparison, ClickDesigns it's very cheap and very very easy to use and I guess it focuses more towards the users that lack design skills and want to save time.
Also with the commercial license you can also offer graphic design services to clients or on places like Fiverr or UpWork and charge them for these services.
So not only can you create captivating designs for your business, but you can also design for clients without paying extra!
There is never a shortage of people/clients looking for designs. Every business needs logos, box shots, covers, reports, digital mockups, bundles, illustrations, callouts, and many, many more graphics.
Graphics is a never ending requirement. No one settles with one design so you can keep selling more.
With ClickDesigns, you can instantly produce amazing designs and sell them to others so they can use them for their business.
Zero design skills or experience needed. Now let's jump into the next section of my ClickDesigns Review to find out how ClickDesigns works.
How ClickDesigns Works?: Demo Video
Now let's jump into the next section of my ClickDesigns Review to find out more about ClickDesigns pricing and upsells.
ClickDesigns Review: Pricing & Upsells
Front End Offer is the main software ClickDesigns which will cost you $37 for personal and $47 (commercial). For the front end offer the price you see now is available only during the launch period.
Also, prices are subject to change throughout the launch. After the launch, which ends on the 9th of January 2022, price will increase to $97 or will go as monthly payments.
I'm not quite sure but you can always click here for current pricing. Also, the frontend access doesn't depend on any of the upgrades to work, it works fine just on its own BUT it is also limited.
So if you want to get full access to this software and go unlimited then pick up OTO 1! Okay, now let's have a look at the upsells or OTO's.
ClickDesigns Review: OTO's
OTO 1: Click Designs Unlimited $97
ClickDesigns Unlimited unlocks the premium editor with 2,000 more design templates, custom template designer, 1-click design cloner including unlimited storage for unlimited projects, designs, downloads, new images, icons, elements, graphics and templates.
OTO 2: Click Designs PRO $77
Unlock worksheets, checklists, cheat sheets, photo-realistic mockups, magazines including group shots pro & custom device builder for explosive high-ticket buyers & sales.
Unlimited designer worksheet templates, designer checklist templates, designer cheat sheet templates, real-world scene mockups, offline banner ad mockups, hand held device mockups, world class magazine templates, commercial license.
Group shots pro designs box shots, digital devices (monitors, laptops, tablets, phones & watches), covers, reports, worksheets, checklists, cheat sheets & magazines.
Pre-made product bundle pro templates box shots, digital devices (monitors, laptops, tablets, phones & watches), covers, reports, worksheets, checklists, cheat sheets & magazines).
Custom digital device mockup builder, one year brand new magazines, worksheets, checklists & cheat sheets design releases worth $1,997 and sell any designs inside ClickDesigns professional for 100% profits.
OTO 3: Click Designs Design Pages $67
With this upgrade you get a new design page software with thousands of features so you can start creating pages inside ClickDesigns.
Custom background designer, pre-made background colour, patterns & image page designs, page theme designer, illustration & scene templates, annotation templates including vector & illustrations graphic designer and illustrative scenes mockup creator.
OTO 4: Click Designs Agency $197
ClickDesigns agency
Custom agency branding
Agency control centre for virtual team accounts
Agency management centre to add, delete & manage users
Agency-wide design collaboration
Client work & project management
1-click bulk high-resolution downloads
​Watermark design-protection engine
​Stealth click share url
​Showcase design portfolio samples to clients worth $297
Agency client work review access worth $497
​Unlimited hosting & storage worth $997
Global client-getting & buyers blueprint
​Done-for-you legal client contracts
Agency vip client support worth (email/chat/skype/zoom)
Now, in the next section of my ClickDesigns review you'll find all the bonuses you will get for free if you buy ClickDesigns through my link.
ClickDesigns Review: Bonuses
If you decide to buy ClickDesigns through my link, click on any of the buttons on this page and you will get all the bonuses listed for free.
All the bonuses listed down below for my ClickDesigns Review are available only if you buy it through any of my links/buttons on this page and are available even if you purchase only the front end offer.
Your download link with my bonuses will be delivered inside your JVZoo dashboard. If you can't find them or you run into an issue please send me an email at: [email protected] and I will be happy to sort things out for you.
So check out my ClickDesigns Review Bonuses. This bonuses will save you time, money and help you make the most out of ClickDesigns.
Custom Bonus 1: Free Account With ReedBio
ReedBio is my own cloud based software that will allow you to build vCards and Bio Pages in minutes. All your links on one page! And you will get unlimited free access to ReedBio when you buy ClickDesigns through my link.
You get 4 built-in themes that you can use right away
Custom logo, background, fonts, SEO settings, password protection and so much more
Dark Mode: All your pages support dark mode as well
Tracking pixels: Facebook, Google Analytics, Google Tag Manager, LinkedIn, Pinterest, Twitter, Quora tracking pixels available.
Connect your own domain or use our predefined ones
Custom Bonus 2: Free WP Video Reviews PRO
The beauty of this plugin is that for every page you have on your website you can have a different video widget for every page. For example: for the home page you can have a video, for an article you can have another video, for a blog post you can have another video. This is powerful stuff and you'll get this for free when you buy ClickDesigns through my link.
100% Responsive
Selection multiple pages and videos
Play video from the beginning when it is clicked/tapped
Add Call To Action Button with types of options
Scroll to a block on a site page
Add URL to open other page
Calling a popup window, launching a quiz, etc.
Button color settings
Ability to disable widget on mobile or on desktop
Select Widget location
Widget color settings
Custom Bonus 3: Free Account With ReedShortener
ReedShortener is my own Premium Link Shortener, QR Codes generator and Bio Pages software and you will get unlimited free access to ReedShortener when you buy ClickDesigns through my link.
Link Shortener, Bio Pages And QR Codes
Link Management
Privacy Control
Powerful Dashboard
Custom Branded Domain Names
Custom Bonus 4: Free Account With ReedProofs
ReedProofs is my own cloud based software that will allow you to create Fomo, Scarcity, Social Proof pop-ups to engage and keep your website visitors. You will get unlimited free access to ReedProofs when you buy ClickDesigns through my link.
14 included notifications
Unlimited campaigns
Create unlimited notifications
Highly customisable notifications
Notifications & campaigns statistics
Bonus 5: Product Launch Mastery
Once you have your graphics ready with ClickDesigns, you will want to launch your product the right way. If you have failed in the past, it's probably because you took the most difficult route.
Now you can effortlessly launch your product with amazing graphics with ClickDesigns as fast as possible that will attract, engage and convert your audience into paying customers.
To make this happen, follow exactly the process inside Product Launch Mastery to do it right, the first time around. You will learn the precise steps required to launch your own product successfully without the roadblocks, obstacles and hurdles you are encountering right now.
Bonus 6: eCommerce Builder
It's no longer a dream to have your own eCommerce website, but a reality. With the help of this Wordpress Plugin, you can start building your own profitable eCommerce sites that generate hands-free commissions on autopilot even if you have no coding skills.
Design your site for success with graphics from ClickDesigns! Build as many as you want and collect money from every sale. This is an easy way to scale your income, even if you're just getting started.
Bonus 7: Profit List Master
Building a list is something you've probably heard is important, right? Everyone says, "The money is in the list."
That's very true! Sure there are many ways to get traffic like Paid Traffic, Social Media, SEO and Video Marketing just to name a few. But it all starts with building your email subscriber base first.
Here are the expert tips you need. You need to catch your prospects' attention with stunning graphics that you can get from ClickDesigns.
Bonus 8: The Email Marketing Expert
E-mail marketing is without a doubt the most powerful and efficient form of online promotion available. Nothing comes close to its power, especially when you consider that it's even more cost-effective than search engine optimization (SEO) or social media advertising.
Discover the most efficient and easiest ways to harness the power of email marketing here on Email Marketing Expertise.
Bonus 9: Content Marketing Formula
In this expert guide, discover what content marketing is and why it's so important for your business. Learn how to use it to totally revolutionize your success.
You'll get a completely customized content marketing plan that you can apply to your own company and grow a large following of fans.
Bonus 10: Lead Magnet Collection
Are you stuck thinking of what lead magnets to use? This ultimate collection of lead magnet ideas will un-stuck you!
Now, you don't have to worry about how you will ethically bribe your prospects into giving you their contact information. Even better, you can create your lead magnets inside ClickDesigns!
Bonus 11: Social Media Mastery
Be the social media expert in the shortest time possible! This is for you if you've wanted to learn how to get the most out of social media marketing, increase your traffic and profits, and make even more money.
Remember this, if your business is not on social media, you lose!
The secret sauce that makes social posts are graphics and designs that easily catch your followers' attention. You can quickly design them using ClickDesigns. Start from scratch or use the templates available.
Bonus 12: Traffic Blueprint
Discover proven traffic methods that can grow your social media following, get more email subscribers and increase your sales. These include website optimization, getting traffic through search engines, using hashtags, and more.
But one common thing among these traffic methods is using phenomenal designs in your strategies, or else, you'll find it hard to get attention. Get your designs from ClickDesigns, fast and easy.
Bonus 13: Video Marketing Beast
Video Marketing is the most cost-effective way to market today. However, there are so many videos out now that they're not as impactful as before. So what can you do?
First, create stunning graphics that you can use for your videos. ClickDesigns will help you out in this. This guide will give you more expert tips on increasing your conversion rates and outshining your competition.
Bonus 14: Video Marketing Playbook
The ultimate goal of effective video marketing is to convert your audience. The video must entice consumers to pull out their credit cards and purchase your offer.
The problem now is that there's so much video out there that most of them simply don't have an impact. They don't get people to convert to buyers anymore.
This guide gives you expert tips and tricks to put the magic back into your video marketing. The first step is to use fire-breathing designs you can get only from ClickDesigns.
ClickDesigns Review: Quick Overview
| | |
| --- | --- |
| Vendor: | Mo Latif |
| Product: | ClickDesigns |
| Launch Date: | 02.02.2022, 11 AM EST |
| Front End Price: | Starts at $47 (Launch Special) |
| Launch Ends: | 09.02.2022, Midnight |
| Recommendation: | Highly Recommended |
| Sales Page: | Click Here |
| Refund: | 90 Days Money Back Guarantee |
| Niche: | Graphic & Design Software |
ClickDesigns is the only software on the planet that was created for business owners like you, who are not creative. And quickly and easily want amazing logos, box shots, covers, device mockups, bundles, illustrations, and many other cool graphics.
It's the ultimate design machine with the latest graphics and assets on the market.
This way you can be confident in getting high-converting, pattern-interrupting designs that will pile up traffic, bumper-to-bumper, so you can get loads of clicks to sales.
For the first time ever, you can do it yourself in a few clicks without waiting or relying on anyone ever again.
A design powerhouse that levels the playing field for ordinary people like you to get extraordinary graphics that drives massive traffic, clicks, leads, and sales.
The first software of its kind that immediately shifts your creative weakness into your greatest strength, and competes with pro designers to get game-changing graphics in record time.
I used to use Canva but ClickDesigns is one of the best Canva alternatives.
What took weeks, now takes you minutes. Now let's jump into the next section of my ClickDesigns Review to find out more about ClickDesigns features and benefits.
ClickDesigns Review: Features & Benefits
Blank 'Multi-Purpose' Canvas
Start from a blank canvas or use the fully customizable templates inside the dashboard.
Unleash your creativity with thousands of built-in elements, icons, shapes, effects, photos, images, and much more.
Change angles, opacity, color, letter spacing, layer, and even add your own stuff. Everything is made possible inside ClickDesigns!
Point & Click, Drag & Drop Editor
Use the point-and-click editor to get beautiful, eye-popping designs faster than your cup of coffee getting cold.
You'll be thrilled with simplicity when you experience ClickDesigns cutting-edge and versatile editor, as you drag-and-drop what you need, how you need it, and where you need it in seconds.
User Friendly Dashboard
Hit the ground running with ClickDesigns for a truly seamless design experience. A highly user-friendly, intuitive interface that requires zero learning curve which means you can churn out every type of design consistently, one after another.
Never be intimidated or overwhelmed as it really is simple, fast and fun.
28 Industry-Specific Templates
No matter what industry, market, or niche you're in, there's elegant templates available for everyone, including you!
Whether you're selling a physical or digital product, offering services, this represent you.
Niche-specific templates you can customize to perfectly fab and glam up your business that shows customers you are the real deal.
Fully Customizable 2D & 3D Templates
Go straight to the finish line with the most comprehensive collection of professionally crafted designs by award-winning designers never seen before.
Your designs are ready and you can start getting a sea of clicks, leads, and sales faster than ever before possible.
Multi-Angle Layout Views
Every market and industry has a different breed of customers and it's exactly why you get multiple angles and layouts to choose from that specifically attract your audience type.
Dive straight in, by selecting the angles and layouts that speak directly to your audience the exact way you want to effectively grab and keep their attention.
High Resolution Downloads
The ugly duckling days are long gone, which means today, you need to make photo-realistic appearances of your products.
Give customers heart-stopping designs they can see, feel, and taste with attention to detail that trigger emotions so they open up their wallets to you.
Live Preview
No need to download or switch to another tab. Readily preview your designs as you create them live on the same page and save lots of clicking, downloading and checking time.
In 1 click, instantly live preview your design or progress exactly where you are in the dashboard for a hassle-free, create-to-finish in one sitting experience.
ClickDesigns Review: Who Is It For?
In a nutshell, anyone who's in business needs graphic designs.
Digital Marketers
Bloggers
Video Creators
Social Media Marketers
Online Course Creators
Authors & Publishers
Software Creators
Entrepreneurs
eCommerce Owners
And here's the more interesting part. If you're a freelancer or looking for another source of income, ClickDesigns will make it easy for you. ClickDesigns is truly newbie-friendly and requires no creative or technical skills and experience from its users.
It will empower you to churn out designs after designs, maximising your income potential. You can literally create designs in minutes. Just imagine how many designs you can produce in an hour. This is a side gig that can give you a full-time income.
ClickDesigns Review: Frequently Asked Questions
Is it really that easy to create amazing designs?
ClickDesigns is a point-and-click, drag-and-drop design software that takes care of the design work for you. The pre-designed templates are ready to go, which means you can be up and sprinting in minutes with your first design! Try it!
Am I still going to need to hire a coder and designer?
You don't and you don't have to. ClickDesigns creates the designs for you and once you download, you can directly add it yourself to any site builder. This is your very own Creative Director on demand that works at the click of a mouse. No technical or creative skills required.
Are the graphics and photos inside ClickDesigns free?
Yes, they are free! All photos and graphics inside ClickDesigns are 100% royalty-free. The templates, images and photos do not require attribution, so you don't have to worry when choosing from our library for your next project.
Can I use my own logos, photos, and images too?
Yes, you can upload your own logos, photos, graphics, and images into ClickDesigns and keep your branding intact. You can upload anything you want, make it look exactly how you would've wanted!
Will this help me sell my products or services?
The reason why most businesses fail is because they have graphic designs as an afterthought and not as a necessity. They assume that their product will sell itself. The point-and-click software GETS YOU your designs and will save you time so that you can focus your attention on other parts of the business without an ounce of worry.
The Final Verdict: Is ClickDesigns Worth It?

The power of graphics goes beyond aesthetics. Because they reinforce your written message, graphic designs play a key role in web design and digital marketing.
At the end of the day, your goal is to inform, engage, and convert. Words are great, but graphics seal the deal. So if you want a sleek new look that attracts audiences and makes sharing worthy of the effort, graphics are your foolproof answer.
But the biggest challenge is getting graphic designs, constantly. This is why design software is now a marketer's must-have. ClickDesigns is guilty of the marketing hype it's getting, aka, it's worth all the hype.
The ClickDesigns WYSIWYG (What You See Is What You Get) editor is a godsend for people who are not technical. It's easy to use because of the drag and drop interface.
It allows for speed and efficiency because the designs are ready for publishing. No additional ninja moves to do.
It gives you flexibility in editing any element of your design without messing up the other elements. It's hard to go wrong with the pre-made templates!
I'm so glad that ClickDesign offers such professional-looking designs. Unlike other sites, you're guaranteed quality here because you've got top-notch templates to start with.
I was looking for a way to simplify the design process, and I'm sure that ClickDesigns is it. It has all of these features that are easy to use but also give me more control and flexibility than other programs do.
Now, here's the catch. Other designs like covers of magazines and books are locked behind a paywall. If you want the whole shebang, you need to buy the whole bundle.
But with the income potential that ClickDesigns will bring you, it's definitely worth the investment! And this is my opinion based on testing and using ClickDesigns.
I hope you find my ClickDesigns Review helpful. If this is a product that you're interested in picking up then click the buttons on this page and get ClickDesigns with my free bonuses.
Grab your ClickDesigns license now completely risk free. Your investment is covered by the no hassle, money back guarantee. Thank you for reading my ClickDesigns Review. I'll catch you up in my next review article. Bye for now!
CLICK DESIGNS REVIEW
PROS
Easy to use
WYSIWYG editor is user- and newbie-friendly
Has a wide array of templates that are easily customizable
You can create your own template and use it on different designs. For example, you created a template for a magazine cover. You can also use it as a book cover without starting from scratch. This option is perfect for developing your brand kit.
Design outputs are ready for publishing on blogs. No additional step needed
CONS
You have to buy at least 1 upsell in order to unlock more features.
The Blank Canvas option is a little confusing. It would have been better if there were pre-determined canvas sizes for different designs.